ABP continually updates and improves its Koala Management Plan with additional input obtained from trials, collected data, review of new technologies and work practices.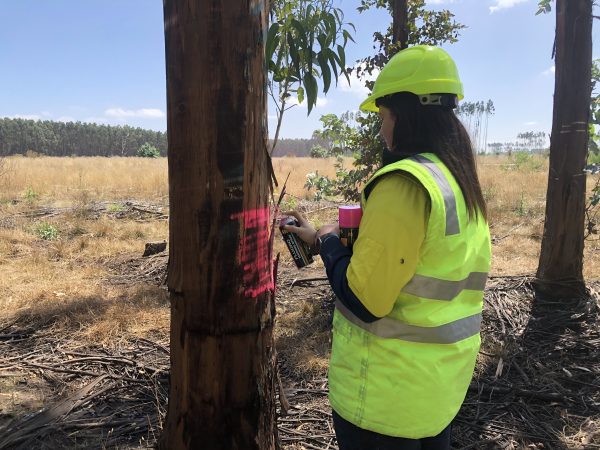 ABP has a zero harm goal for the tens of thousands of koalas that have moved into our plantations from nearby national parks. In December 2013, ABP implemented a new policy that involved dividing our estate into two zones based on whether koalas are likely to be present in plantations. Any harvest operations in the 'koala zone' must have expert spotters deployed to work ahead of the harvest machines to identify koalas. Once located, the koala's tree and nine surrounding trees are excluded from harvesting.
ABP, along with others in the industry are constantly testing new techniques to reduce interactions between koalas and operations. The use of drones with high-resolution and infra-red cameras to locate koalas is proving to be a useful tool, however the ability to locate koalas on a consistent basis, in various weather conditions, limits the effectiveness of this new technology. ABP has also attempted a number of other techniques including noise deterrents and grazing cattle inside plantations. Unlike, human spotters, these techniques and technologies were unsuccessful.
ABP now has significant experience with the deployment and utilisation of koala spotters. Based on the information gathered from spotters, further understanding of koalas and their behaviours, continuing trials of new technologies and extensive expert engagement, ABP's koala program continues to improve.
In 2017, the blue gum industry and the Victorian Government's Department of Environment, Land, Water and Planning established new requirements to assist with the protection of koalas in blue gum plantations. Under these Koala Management Plans, ABP is approved by the Victorian Government to continue harvesting while deploying spotters in 'koala zone' plantations. 
ABP remains committed to the hardwood plantations industry's ultimate goal of zero harm to koalas. In order to achieve this, ABP is continually reviewing, trialling and adapting new technologies and work practices to respond to the increasing koala population and challenges involved in locating koalas in dense foliage. ABP is dedicated to doing all that is reasonably practicable to achieve our ultimate goal.
ABP is a significant regional employer and a significant contributor to the Victorian economy. ABP operates to maintain the economic benefits of sustainable plantation forestry while upholding environmental, social and cultural best practice.
For more details on the ABP Koala Program, please email us at contact@austgum.com.au.